Vision Collabria Visa® and Mastercard® credit cards
From cash back on your everyday purchases to valuable travel insurance benefits, we have a Visa® or Mastercard® to suit​.
---
Vision Collabria Classic Mastercard®
All the convenience you'd expect in a major credit card with a low annual fee and a low interest rate.
Vision Collabria US Dollar Mastercard®
Avoid foreign transaction fees and enjoy travel privileges all while earning valuable rewards on your US purchases.
Vision Collabria World Mastercard®
Take advantage of a wide world of privileges with the credit card that builds elite-level rewards and offers generous benefits.
Vision Collabria Centra Visa® Gold Card
Earn reward points towards the things you want with this a low annual fee and low interest rate card.
Vision Collabria Travel Rewards Visa® Gold Card
Pair valuable reward points with important travel privileges and help protect you and your belongings as you experience the world.
Talk to a friendly member service specialist at your

local branch.

The Aura™ Loyalty card®
The prepaid, reloadable Aura™ Loyalty Mastercard® and financial app provides the flexibility of credit card spending without the risk of overspending. Plus, you earn instant cashback rewards at participating merchants.
---
Here's how it works.
Deposit funds onto your card via eTransfer to set your balance. Then load your virtual card onto Apple Pay, Samsung Pay, Google Pay or Fitbit Pay and start spending instantly within the Aura app. Aura cards can be used anywhere that Mastercard is accepted.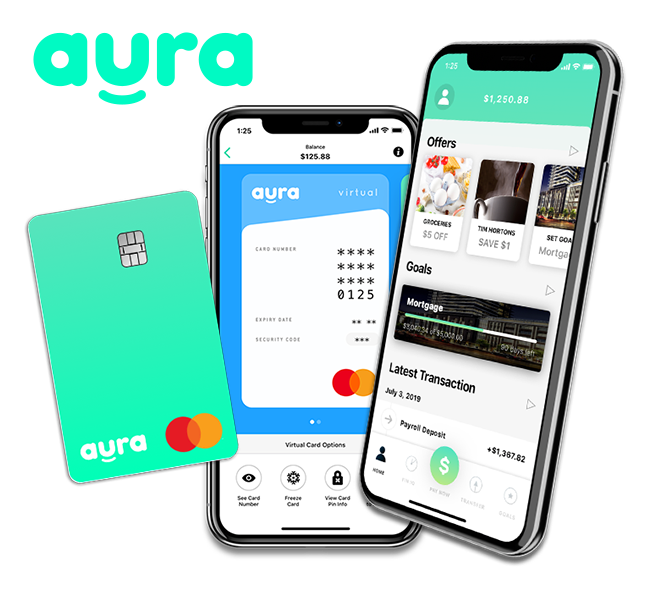 Aura loyalty benefits:
Instant cashback rewards on everyday purchases from participating merchants
Track your spending and set savings goals
Reduced foreign exchange rates
Contactless payments
Works with Apple Pay, Samsung Pay and Fitbit Pay
Round-up your purchase to the nearest $1, $2, $5 or $10 for automatic savings
Easily load your card using Interac e-Transfer® or in-person at participating locations
Freeze and unfreeze your card
Get help quickly using the in-app chat support
Split bills, request transfers and send money for free
The Aura Loyalty Prepaid Mastercard® is

FREE

for Vision Credit Union members.